LISTENING AS WORK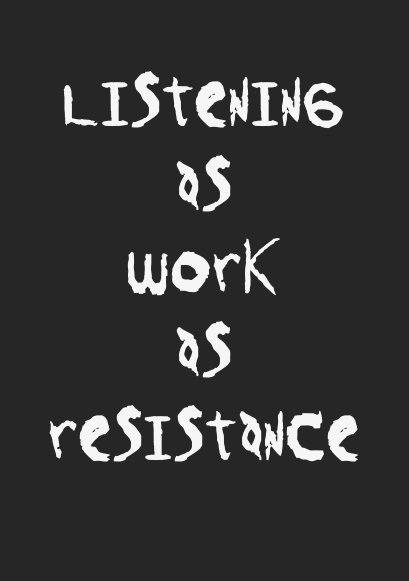 Bureau for Listening criticizes how listening and listeners often contribute and generate a diverse form of value unawarded and compensated within the structures of our contemporary late capitalistic societies. We experience that the value of listening is often being overlooked or taken for granted, softly fueling others profit making, and we will therefore strongly advocate for recognizing listening as work. We all appreciate and depend on the act of listening, but only rarely is listening recognized as a vital service to perform and offer, and as work.
Taking steps towards a recognizing of listening as work is a core element of Bureau for Listening's mission.
The typefont:
The typefont used for the statements  is called Mother Nature is a Lesbian. It is created by Be Oakly at Genderfail, and is based on a protest sign.
It is open source and used after economic donation to Genderfail Press.
"Mother Nature is a Lesbian" sign at Women's March photograph by Bettye Lane | Aug. 26th, 1974