Questions for Listening
What questions do we ask, when we wonder upon the nature of and our experience with Listening?
In what way can question-making be a way of exploring listening?
Is it enough to 'just' 'ask' questions?
Is questions exploring listening different in some way – in some listening way?
What is site/time/space/relation-specific/sensitive-questioning/wondering?
What is a listening-question?
—
This is a project exploring questions that we might be asking ourselves in relation to listening. It is primarily conceptual project, building on the premise, that questions-making is in itself a potential art form and expression.
Questions can offer a framework for our limitations of knowledge, being and practicing – the questions can point to the borders and challenges. Why not acknowledge this border-pointing in itself?
Questions for Listening at Group Muse II, Arts Letters and Numbers the 18th of Marts 2023.
The questions for listening were written, printed and hang at a concert. The intention of the questions were to re-asset our default listening mode.
The questions were hanged from the street entrance and all the way to the concert room.
WHAT SOUNDS DO YOU LEAVE OUTSIDE WHEN ENTERING THIS SPACE?
WHAT SOUNDS FROM OUTSIDE, DO YOU CARRY WITH YOU inside?
WHAT DOES IT MAKE YOU FEEL – KNOWING THAT YOU ARE ABOUT TO LISTEN?
DO YOU LEAN OR DO YOU FALL WHEN 'TRULY' LISTENING?
DO YOU EVEN KNOW?
WHAT DOES IT MEAN, THAT YOU ARE NOT LISTENING ALONE?
HOW DOES YOUR PRESENCE CHANGE THE SOUND IN AND OF THIS ROOM?
DO YOU FEEL THE VIBRATIONS OF THE COSMIC NOISE?
WHAT KIND OF BRAVERY AND CARING DOES LISTENING ASK OF YOU?
ARE YOU LISTENING – RIGHT NOW AND RIGHT HERE?
WHAT IS THE RELATIONSHIP BETWEEN YOUR ABILITY TO LISTEN AND YOUR BREATHING?
WHAT KIND OF ATTENTIONALITY ARE YOU WILLING AND ABLE TO OFFER WHEN ATTEMPTING TO LISTEN?
HOW WOULD THIS SPACE BE DIFFERENT IF WE CHANGED THE SOUNDS TRAVELLING WITH IT?
IN WHAT WAY DOES THE IDEA AND ACT OF LISTENING SCARE YOU?
HOW CAN WE WEAPONIZE LISTENING?
HOW DO YOU KNOW IF SOMEONE IS LISTENING TO YOU?
WHAT DOES YOUR BODY DO, WHEN IT IS LISTENING?
WHICH SOUNDS DO YOU MISS, RIGHT HERE, RIGHT NOW?
IF YOU COULD CLOSE YOUR EARS – WHAT WOULD YOU CLOSE THEM FOR?
WHAT CAN YOU ONLY HEAR, RIGHT HERE, RIGHT NOW?
HOW, WHEN AND WHERE DO WE LEARN HOW TO LISTEN?
CAN YOU PREPARE YOURSELF TO LISTEN?
IS BEING QUEIT THE SAME AS BEING LISTENING?
WHAT ARE THE POLITICS OF LISTENING?
WHAT IS RADICAL SILENCE?
IN WHAT WAY DOES MY LISTENING ENABLE OTHERS?
WHAT SOUNDS DOES ONLY EXIST IN YOUR MEMORY?
CAN YOU HEAR SOMETHING YOU DON'T ALREADY KNOW?
DO YOU TOO FEEL THE WARMTH FROM OTHERS LISTENING?
IS LISTENING CREATION?
WHAT DOES IT CREATE?
WHAT DO YOU MISS LISTENING TO?
HOW CAN WE LISTEN TO WHAT WE DON'T KNOW THAT WE DON'T KNOW?
WHAT SOUNDS DO YOU GENERATE, RIGHT NOW?
IS THERE SOMETHING WE CAN'T LISTEN TO?
WHAT IS 'GOOD' LISTENING?
IS HIDING AN ACT OF LISTENING?
DO YOU DARE TO LISTEN?
WHAT MEMORIES COMES TO LIFE BECAUSE OF THE SOUNDS – HERE?
WHAT ENABLES YOU TO LISTEN?
IN WHAT WAY DO YOU CONTROL THE LISTENING ACT?
CAN YOU HELP OTHERS TO LISTEN?
HOW?
WHY DO I SOMETIMES CRY WHEN I LISTEN?
WHAT DO YOU HOPE WOULD BE YOUR LAST SOUND?
DO YOU REMEMBER A SOUND THAT MADE YOU WONDER?
WHO DOES LISTENING BENEFIT?
DO EVERYONE HAVE THE ABILITY, THE PRIVILIGE AND THE BRAVERY TO LISTEN?
IS THIS TYPEFACE AN ATTEMPT AT LISTENING?
Selected photo documentation: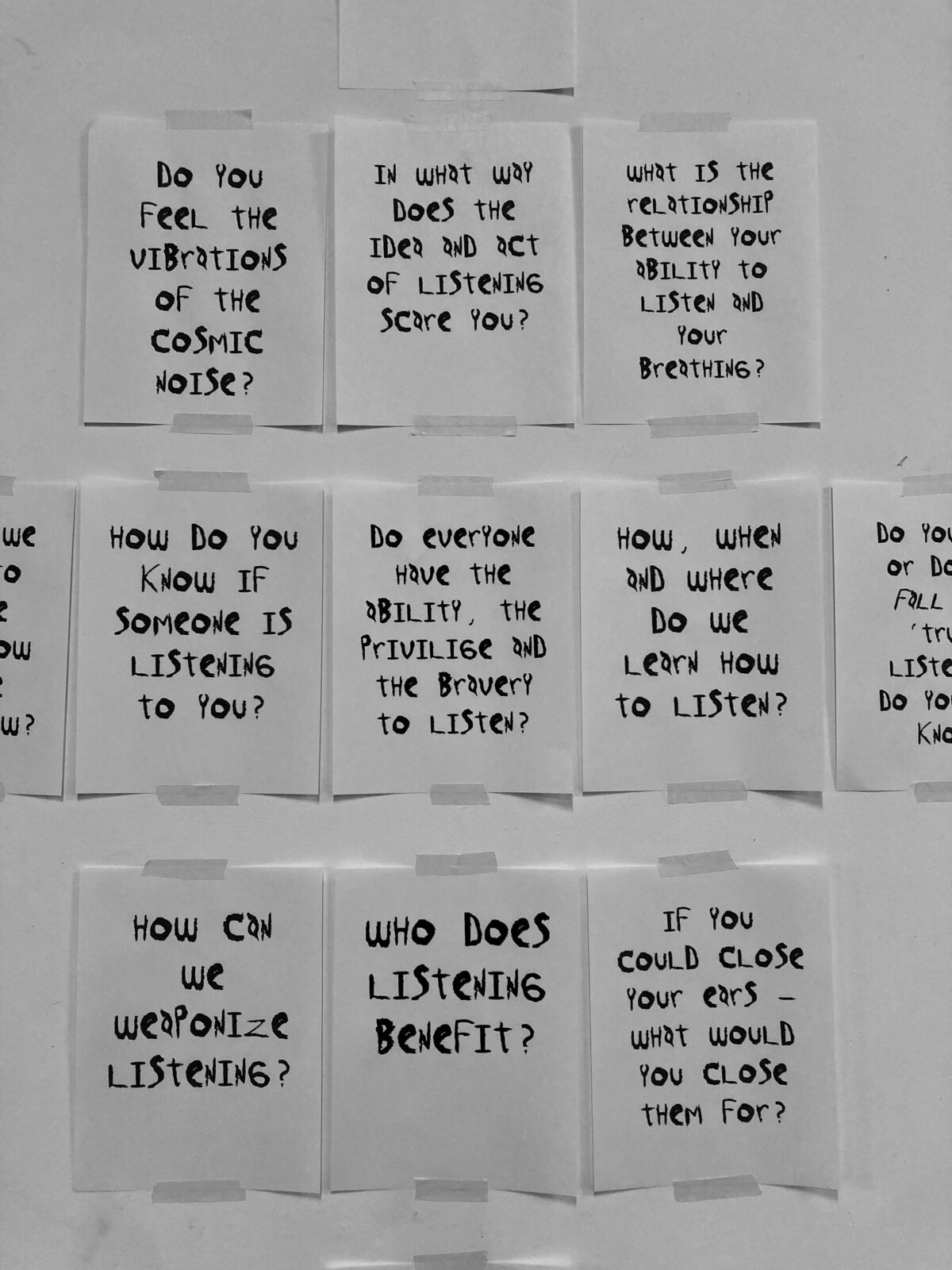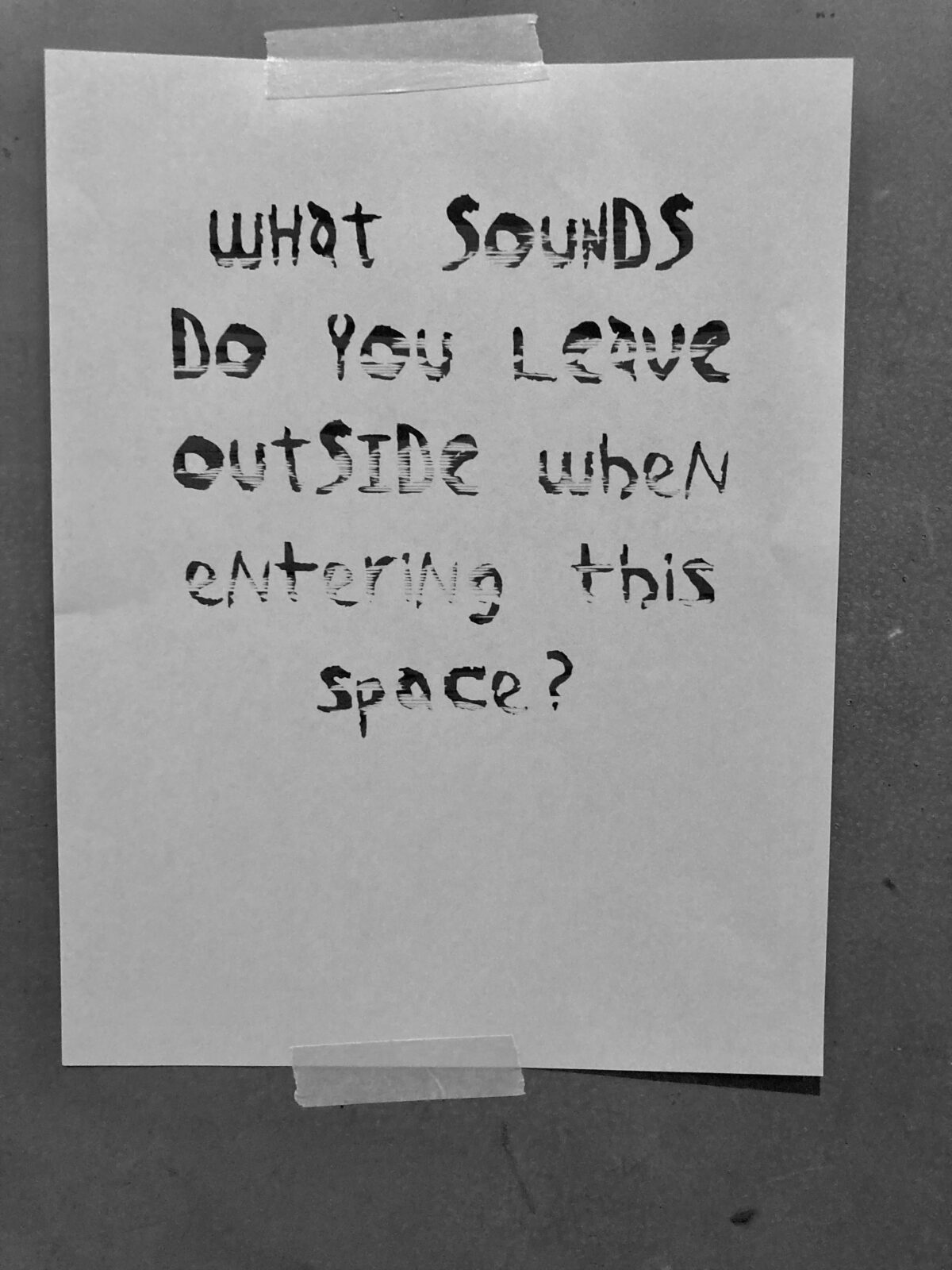 "Mother Nature is a Lesbian" sign at Women's March photograph by Bettye Lane | Aug. 26th, 1974